Sult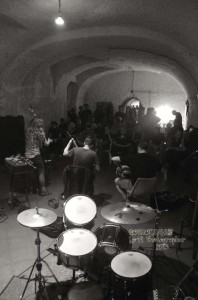 Jacob Felix Heule: percussion
Guro Skumsnes Moe: contrabass
Håvard Skaset: acoustic guitar
Sult explores the hidden sounds of acoustic instruments (guitar, contrabass, percussion), magnifying them with microphones so the audience can join them inside their silent cacophony. Subtle harmonics become saws cutting through metal, and creaking wooden bodies become sinking ships. Their expression is primitive and raw, but while their playing embraces chaos, it is matched with discipline and the history of a decade-long mind-meld. The group sounds as one, with the gestalt of simultaneous layers taking primacy over any solo expression. The equality of the voices, however, invites the listener to focus on threads of their own choosing and make their own discoveries.
Sult is a trio with members from Oslo and Oakland. They have been working together since 2007, and have regularly toured Europe and America. In addition to collaborating with musicians such as Bill Orcutt, Okkyung Lee, and Fred Frith, they have been regularly performing Skeleton with live cinema artist Greg Pope. They are also active as organizers within their respective local music communities.
"They combine to create a scrap-heap collage of dry, brittle, abstract sounds, which they control with exquisite patience in slowly developing cycles of tension and release." — Peter Margasak, Chicago Reader
"It's kind of interesting how, for the most part, the melodic and harmonic activity in the pieces come from the basses (always a good instrument in plural, proven here), while the guitar seems to content to exist as a sounding unit for all manner of physical manglings. The six-stringed playing on this record is in fact quite winning, coming across as a mixture of Christian Munthe's guitar anti-heroics and what Roger Smith might've sounded like if he'd forsaken his beloved nylon-string for a steel counterpart. But back to the basses: while a lot of 'free-improvising' double bassists automatically reach for upper end of their instrument's register, these two both share a fairly uncommon inclination towards the lower region of things. The reason that this is remarkable in a group context is that it means that our guitar and percussion overseers are exercising a wondrous amount of control, sensitivity, and a finely honed dynamic understanding in order to make this work, not only in terms of a listener being able to hear everything, but also in their own abilities to communicate and react in the moment. Jacob's effectiveness as a purveyor of avant-leaning percussive stylings is often evidenced in the frequent moments when it is a) not clear that there is a percussionist present at all, and b) very often it becomes very difficult indeed to make out who's doing what." — Chris Dadge

—
"….The quartet of two basses, guitar, and percussion have crafted a music of extremes: a sound that's both stretched taut and painfully compressed like our ship at the bottom of the sea. "Skade" and "Fange" feel remarkably open and spacious; "Lunge" and "Wince" incredibly claustrophobic. But extreme doesn't mean violent. Sult is restrained and finely-controlled…." Freejazzblog
"..Håvard Skaset scratches an acoustic guitar; and percussionist Jacob Felix Heule attempts to rouse himself now and then with a low, disconsolate rumble. Small, desperate bursts of rattling and rubbing dissipate Into exhausted doldrums of queasy drone, interrupted by the low growl of an isolated bass thrum and scattered snatches of guitar, while the slow, rhythmic thump of a single torn tries one last time to persuade the dying to man the oars…" The Wire
USA 2014:
November 14: Chicago @ Tritritriangle
November 15: Columbus @ 3 Creex
November 16: Buffalo @ The WASH Project
November 17: Brooklyn @ Panopoly Performance Laboratory
November 20: Philadelphia @ First Banana
November 21: Boston @ Washington Street Art
November 22: New York @ Studio 26 Gallery (collaboration with dancer Christine Bonansea)
November 23: Pittsburgh @ Abandoned Store
November 24: Cincinnati @ Rake's End
November 25: Milwaukee Borg Ward
November 30: Oakland @ Temescal Art Center
December 4: Berkeley @ Berkeley Arts Festival (together with Addleds)
Europe 2014:
4/9/14: Oslo @ Kunsthall Oslo
23/5/14: Bergen @ Bergen Kjøtt
24/5/14: Stavanger @ TOU, Recidency
25/5/14: Stavanger @ TOU, Recidency
26/5/14: Stavanger @ TOU, Recidency
27/5/14:Stavanger @ TOU, Recidency
28/5/14:Stavanger @ TOU, Concert
29/5/14: Drammen @ Union Scene
31/5/14: Oslo @ Blitz
4/6/14: Hamar @ TBA
7/6/14: Nesodden @ TBA w/ Greg Pope
Europe 2013:
9/9/13: Florence @ TBA
11/9/13: Faenza @ Clandestino
12/9/13: Genova @
13/9/13: Torino @ Velvet Club
14/9/13: Trento @ Campo Marzio
15/9/13: Rovereto @ TBA
16/9/13: Venezia @ Punto Croce
18/9/13: Novi Sad, Serbia @ TBA
19/9/13: Subotica, Serbia @ Studio 11
20/9/13: Temerin, Serbia @ Flying Dutchman
21/9/13: Belgrade, Serbia @ Panic Room Zica
22/9/13: Zabok, Croatia @ Zelena dvorana / Green Room
23/9/13: Maribor, Slovenia @ Gustaf Pekarna
25/9/13: Jesi @ TNT
26/9/13: Napoli @ 76A
27/9/13: Salerno @ Ferro 3
28/9/13: Avellino @ Godot Art Cafe
29/9/13: Latina @ Circolo Hemingway
30/9/13: Roma @ Bluetopia
USA 2013
3/25/13 Kutztown, PA: Sult @ the Independent Space w/ Jack Wright.
3/26/13 Worcester, MA @ the Firehouse w/ Lea Bertucci, Silent Isle, Water, & TVE.
3/27/13 Lowell, MA @ UnchARTed Gallery w/ Los Condenados & Dailey Wright Duo.
3/28/13 Brooklyn @ Panopoly Performance Space w/ PascAli, Jack Wright + Andrew Drury, David Grollman.
3/29/13 Baltimore @ Red Room.
3/30/13 Cleveland @ Mahall's 20 Lanes
3/31/13 Chicago @ Hungry Brain w/ Jason Stein + Jason Roebke + Jason Adasiewicz.
4/1/13 Milwaukee @ Sugar Maple w/ Burns+ Hal Rammel+Woods.
4/2/13 Minneapolis @ Madame of the Arts Tuesday Series
4/3/13 Madison @ Audio for the Arts
4/4/13 Ann Arbor @ house show
4/5/13 Toledo @ Robinwood Concert House
4/6/13 Rochester @ Carriage House w/ Bassin/Borden/Merritt/Gunduz quartet & the B&B Orchestra.
4/7/13 Manhattan @ COMA / ABC No Rio w/ Cheryl Pyle + Nicolas Letman-Burtinovic+++
Scandinacia 2012:
May 9 Kristiansand @ Kulturbua
May 10 Stavanger
May12 Bergen @ Kosmoklubben, Avgarde
May 13 Rjukan @ Huset Pub, SMALT
May 14 Hamar @ Hamar Domkirke
May 15 Oslo @ 300acting spaces
May15 Oslo @ Sound of Mu
May 16 Stockholm @ Främlingen
 May 17 Göteborg @ Brøtz
May 18 Fredrikstad @ Østfold Kunstnersenter
May 19 Oslo @ Stein og Jord
USA 2012:
February 28 @ Tom's Place, Berkeley: Sult, Josef van Wissem
March 1 @ Handbag Factory, LA
March 2 @ Trunk Space, Phoenix
March 3 @ Vesica Piscis Cathedral, Flagstaff
March 4 @ Moldspores, Albuquerque
March 5 @ Ben´s, Taos
March 6 @ Rhinoceropolis, Denver
March 8 @ Tom Grainey´s, Boise
March 9 @ Shaver House, Portland
March 10 @ Gallery 1412, Seattle
March 17 @ Jacob Lindsay's house Tuesday, March 20