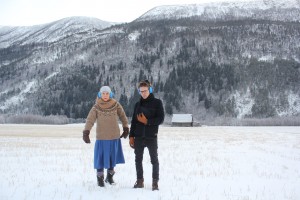 Dogmatic electric guitar and bass duo that pays tribute to the likes of Arto Lindsay, Glenn Branca, Otomo Yoshihide, Junko etc
Bluefaced People seeks the imperfect, the broken and barbaric. BFP makes no use of sophisticated machines and flashing lights. Only rotten riffs and broken guitars. The sound is  forced out of the instruments like water out of stone. The music arises only when the notions of beauty and harmony are set aside.
The music is strongly influenced by the no wave and punk movement and musicians as Arto Lindsay, Glenn Branca, Lydia Lunch.
Released their first tape on  Kassettkultur in 2010.
Second release features Kjetil Hanssen as himself. Release date 24. of December 2011.
Third release is a transparent 7″ released spring 2012.
New tape scheduled to be released spring 2014!
More releases are scheduled for 2012. Stay tuned.